Discover more from Metaversal
Level up on NFTs, digital art, and the metaverse. Join 270,000 others on the journey.
Over 264,000 subscribers
The NFT Party 🎊
A rare CryptoPunk gets listed, the MoonCat project turns 4, Rarible Protocol is here, & more!
Metaversal is a Bankless newsletter for weekly level-ups on NFTs, virtual worlds, & collectibles
---
Dear Bankless Nation,
This week felt like one giant party in the NFT ecosystem.
It's a party those of us here are still early to, so the festivities are really only just beginning. That said, imagine how things will look if the rest of the world keeps coming around to see what all the fun's about!
It's important to pace yourself now, then, so that you're energized and prepared for the coming marathon of NFT activities. Staying fresh today keeps us ready for all the wild things that may come tomorrow.
Anyways, thanks so much for reading. Have a great weekend ✌️
-WMP
---
🙏 Sponsor: Upshot—get paid to appraise NFTs. Start now!
---
🏆 Digital Collectibles
CryptoPunk #8348 ⁠— the rarest Punk because of its 7 attributes (Big Beard, Buck Teeth, Cigarette, Classic Shades, Earing, Mole, Top Hat) ⁠— has been listed for sale for 60,000 ETH! Any takers? 😵

New BAYC sales record: gold Bored Ape #3749 just sold for 400 ETH 🙊

According to Nansen's "Hot NFTs" dashboard, Pudgy Penguins collectibles facilitated a whopping +4,300 ETH worth of trade volume over the past 24 hours 🐧

Our MoonCats are growing up! Aug. 9th marked the 4th birthday of the revived NFT project 🎉 
You can now analyze and track the rarity of your Avastars at rarity.tools!

Cool Cats entered into a collaboration with TIME Magazine.
🎨 Cryptoart
It was a big week for major generative art acquisitions, e.g. Tyler Hobbs's Fidenza #607 and Dmitri Cherniak's Eternal Pump #47 sold 300 ETH and 225 ETH respectively.
Programmable art platform Async Art unveiled a new 24-hour canvas template, which will allow Async artists to easily upload works that evolve once per hour every day. 

Cryptoart platform SuperRare is expanding its Collector Royalties program to cover all SuperRare NFTs. 
🎮 NFT Games
Axie Infinity just kicked off gameplay for Season 18 🕹️ 

Aavegotchi confirmed that its Haunt 2 event will run between Aug. 26th and Aug. 29th 👻
Digital horse racing game Zed Run facilitated over $1 million worth of sales atop Polygon this week according to cryptoslam.io.
🌐 Virtual Worlds
The newest Cryptovoxels district will be Miami, with auctions for the virtual territory starting next Wednesday. 

Boson Protocol announced Portal, a "virtual lifestyle, commerce, and cultural playground" built in Decentraland. 
🛒 NFT News & Platforms
Rarible unveiled Rarible Protocol, a new open-source and cross-chain NFT suite that will cater to creators and devs in decentralized fashion. 

Fantasy sports and betting company DraftKings introduced DraftKings Marketplace, an NFT collectibles platform. 

NFT auction protocol Zora launched BLIT.HOUSE, a permissionless auction house for Blitmap collectibles. 
BLIT.HOUSE
A permissionless auction house for
@blitmap
: ↳ List for reserve-timed auctions ↳ List without worrying about floor price ↳ Bid knowing that an auction will finalize ↳ Partybid (
@prtyDAO
) to buy collectively
BLIT.HOUSE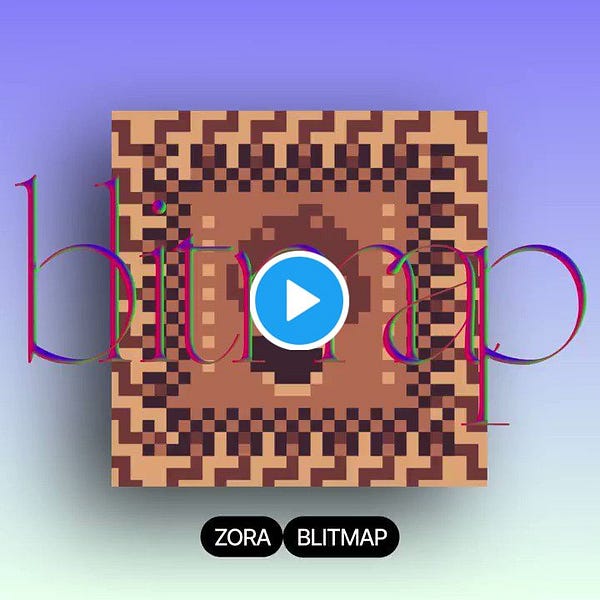 💎 DeFi x NFTs
How about earning DeFi yields on your ETH whenever you make an NFT bid? Could be coming!
---
Action steps
---
Subscribe to Bankless. $22 per mo. Includes archive access, Inner Circle & Badge.
---
🙏Thanks to our sponsor
Get paid to appraise NFTs with Upshot!
Upshot is a protocol that pays NFT experts and collectors for honest insights - unlocking opportunities for a new generation of appraisers to capture value from their expertise and enabling a wave of powerful new DeFi primitives.

👉 Visit Upshot.io and start appraising NFTs today!
---
Not financial or tax advice. This newsletter is strictly educational and is not investment advice or a solicitation to buy or sell any assets or to make any financial decisions. This newsletter is not tax advice. Talk to your accountant. Do your own research.
---
Disclosure. From time-to-time I may add links in this newsletter to products I use. I may receive commission if you make a purchase through one of these links. Additionally, the Bankless writers hold crypto assets. See our investment disclosures here.