Discover more from Metaversal
Level up on NFTs, digital art, and the metaverse. Join 270,000 others on the journey.
Over 264,000 subscribers
---
Metaversal is a Bankless newsletter for weekly level-ups on NFTs, virtual worlds, & collectibles
---
Dear Bankless Nation, 
In my first years in the cryptoeconomy I remember feeling that because my professional work was so technical, it would always be totally separate from my personal creative work. 
Then NFTs kicked off Web3's current cultural bull run, the beginning of which I personally trace back to circa Jan. 2020.
Since then, we've seen a surge of creative projects demonstrate how to use smart contract innovations toward a range of cultural ends, and it's made this space tremendously funner!
So I say let's keep embracing the fun factor. That's how NFTs really take over the world.  
-WMP
---
🙏 Sponsor: Unstoppable Domains - Your name, universal wallet address, and login for web3.
---
🛒 NFT News & Platforms
Etherscan launched an NFT display UI:
🏆 Digital Collectibles
Dope Wars just accounted for the highest NFT sale on the Optimism L2 to date as one of its Cobra characters just sold on Quixotic for 2.35 ETH.

sartoshi, the founder of mfers, published an explainer covering the project's rise.
🎨 Cryptoart
Drift is auctioning a never before seen Where My Vans Go piece through Sotheby's:
Sotheby's is also auctioning off one of the fabled editional claim cards to artist Robbie Barrat's AI Generated Nude Portrait #7, the work at the center of the "Lost Robbies" story.

SHL0Ms, a conceptual artist and crypto-dadaist, introduced the $CAR project:
🎮 NFT Games

We own
Axiedao.org
! Right now it redirects to
Axieinfinity.com
. The Axie DAO is growing quickly with over 15 team members so far across community, support, and engineering.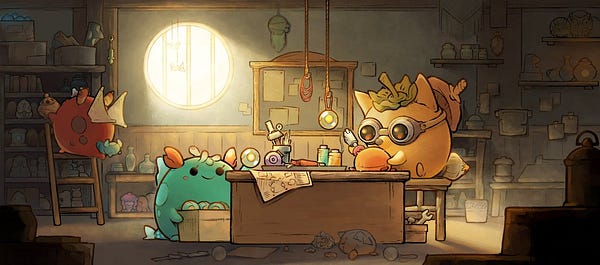 Cool Cats is working on bringing its new game elements back online.
💽 Music
oshi is releasing ample time through Sound today.

Snoop Dogg is turning historic hip-hop record label Death Row Records into "an NFT label."
🌐 Virtual Worlds
💎 DeFi x NFTs
Sushi is considering launching Sushimi, a 10k PFP NFT project. 

Muse DAO:I missed this earlier this month, but I wanted to note that the project's Open NFT API beta is now live.
---
Action steps
---
Author Bio
William M. Peaster is a professional writer and creator of Metaversal—a Bankless newsletter focused on the emergence of NFTs in the cryptoeconomy. He's also recently been contributing content to Bankless, DeFi Pulse, JPG, and beyond!
---
Subscribe to Bankless. $22 per mo. Includes archive access, Inner Circle & Badge.
---
🙏Thanks to our sponsor
Unstoppable Domains is The #1 provider of NFT domains. With endings like .crypto, .x and .nft you can replace your long complex wallet addresses, verify ownership of your NFTs, login into web3 apps and join 10's of thousands of people using them as their Twitter usernames. Better yet, with Unstoppable domains you don't have to worry about gas or renewal fees, YOU OWN IT.
👉 Get your name for as low as $5 here.
👉 Head to Unstoppabledomains.com
---
Not financial or tax advice. This newsletter is strictly educational and is not investment advice or a solicitation to buy or sell any assets or to make any financial decisions. This newsletter is not tax advice. Talk to your accountant. Do your own research.
---
Disclosure. From time-to-time I may add links in this newsletter to products I use. I may receive commission if you make a purchase through one of these links. Additionally, the Bankless writers hold crypto assets. See our investment disclosures here.