Discover more from Metaversal
Level up on NFTs, digital art, and the metaverse. Join 270,000 others on the journey.
Over 264,000 subscribers
Multi-year NFT bull run?
Huge Bored Ape buy, Doodles dominate, science labs are turning to NFTs, & more!
Metaversal is a Bankless newsletter for weekly level-ups on NFTs, virtual worlds, & collectibles
---
Dear Bankless Nation, 
At the start of October 2020, daily NFT trade volume reached +$1M for the first time. NFT activity has surged ever since, so I think it's safe to say we've been in an NFT bull market from that point on. 
Following that line of thought, we've now been in an NFT bull market for 1 year and counting. So what's next? Some people joke that 2021/2022 is going to play out like the 2017/2018 crypto market, i.e. a bear market is due early next year. 
However, the future arrives in ways we can't cleanly predict. Lately, I've been starting to consider the possibility that the Coinbase NFT platform (and many other factors, of course) might extend this NFT bull market through 2022 and perhaps even beyond. 
We'll see, right. In the meantime have a great weekend, be well, and stay creative 👨‍🎨️
-WMP
---
🙏 Sponsor: Zerion—Your Gateway to the Metaverse✨
---
🏆 Digital Collectibles
Big collectibles moves this week: crowned Bored Ape #8585 sold for 696.969 ETH, while CryptoPunks #273 and #4626 were acquired for 265 ETH and 248.88 ETH respectively.

New collectibles project Doodles launched on Sunday and has since seen nearly 10,000 ETH worth of trading volume according to OpenSea.

Forgotten Runes Wizard's Club is getting its own TV show.

MAYC merch drop today! 
🎨 Cryptoart
The application period for SuperRare Space Race #1 is now over. Time for SuperRareDAO to vote on a winner!

Speaking of SuperRare, there were two major acquisitions on the NFT platform this week: Matt Kane's CRYPTOART MONETIZATION GENERATION (320 ETH) and Alotta Money x jvinci's Saint Nakamoto (270 ETH). 

Alt-pop musician Grady sold his record The Love Umbrella on Catalog for 8.1 ETH.
🎮 NFT Games
The Axie Infinity ecosystem is booming 💥
🌐 Virtual Worlds
A presumably lost Etheria plot was recovered and listed for 250 ETH!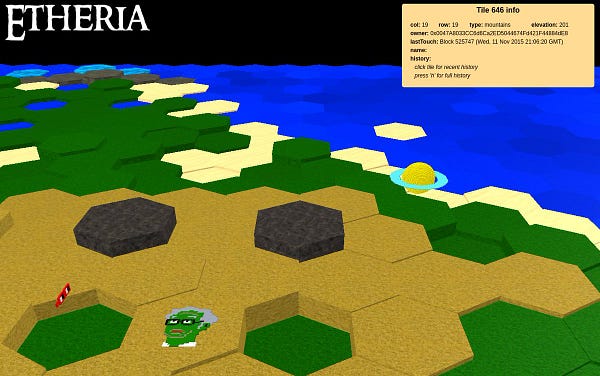 🛒 NFT News & Platforms
Science labs are starting to sell NFTs to fund research by alternative means. 

Zora unveiled new docs. An insightful thread on what to look out for:
new
docs.zora.co
is live—here's a thread on what
@iismallcombe
@0xNader
@brxckinridge
and I have been up to for this release
💎 DeFi x NFTs
---
Action steps
---
Subscribe to Bankless. $22 per mo. Includes archive access, Inner Circle & Badge.
---
🙏Thanks to our sponsor
With Zerion, you can invest in DeFi from one place—now fully revamped for your NFT collection!
So you spent months building up your collection, but you're still viewing your NFTs on a website that looks like it's stuck in 2015? Have some fun with Zerion – send NFTs between wallets, convert them to iPhone widgets and flex them on your Apple Watch - all alongside your entire crypto portfolio.

👉 Look out for Zerion's L2 Support & Cross-Chain Composability.
👉 Connect Your Wallet & Show Off Your NFT Collection.
---
Not financial or tax advice. This newsletter is strictly educational and is not investment advice or a solicitation to buy or sell any assets or to make any financial decisions. This newsletter is not tax advice. Talk to your accountant. Do your own research.
---
Disclosure. From time-to-time I may add links in this newsletter to products I use. I may receive commission if you make a purchase through one of these links. Additionally, the Bankless writers hold crypto assets. See our investment disclosures here.